The good for swimming-pools of MORGENSCHWEIS climate technology will be delivered ready for use and therefore with little installation effort ready for immediate use. Air ducts or pipes for supply and exhaust air are connected to the device variant ETM (dehumidification chest-machine room); in the swimming pool you can only see unobtrusive ventilation grille. The technology remains invisible to the bathroom user.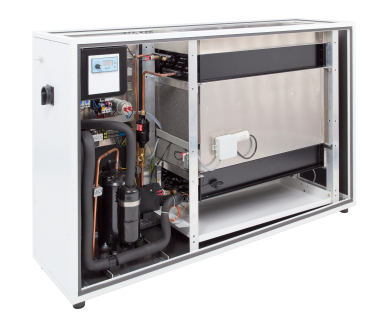 By default, used in all MORGENSCHWEIS dehumidifiers electronic humidity control and the highly efficient Wäremerückgewinnung the operating costs are reduced considerably. This significant advantage over conventional equipment guarantees a long service life an unbeatable advantage in terms of energy costs.
Swimming pool dehumidifiers type ETM
For energy cost comparison please click on the following graph:

And so the MORGENSCHWEIS function dehumidifier:

MORGENSCHWEIS dehumidifiers are performance-optimized heat pump with a
high-efficiency, full heat recovery.
All dehumidifiers are based on the heat pump principle.
The moist air is removed via a closed coolant circuit heat energy.
Water is separated and rains in the drip tray.
The extracted heat energy then heats the cooled and dry air at Durchströhmen the capacitor.
Subsequently, the warm and dry air flows out of the dehumidifier.
The condensate can be fed to the pool water.